User guide
This user guide helps you to use the TV streaming of the University of Vienna.
Note
This user guide is set up for Windows. Configurations with any other operating system are similar.
Prerequisites
You are connected to the

data network

of the University of Vienna. Exceptions: The service does not work with Wi-Fi, via VPN or in the computer rooms.

VLC

media player

is installed on your device.
Download and installation
Download the newest version of VLC media player from the Website of the manufacturer VideoLAN. After installation, the player is already configured correctly and you can use the streaming server without change in settings..
Using the playlist
The available streamings are located in Lokales Netzwerk – Netzwerkstreams (SAP). (local network – network streams).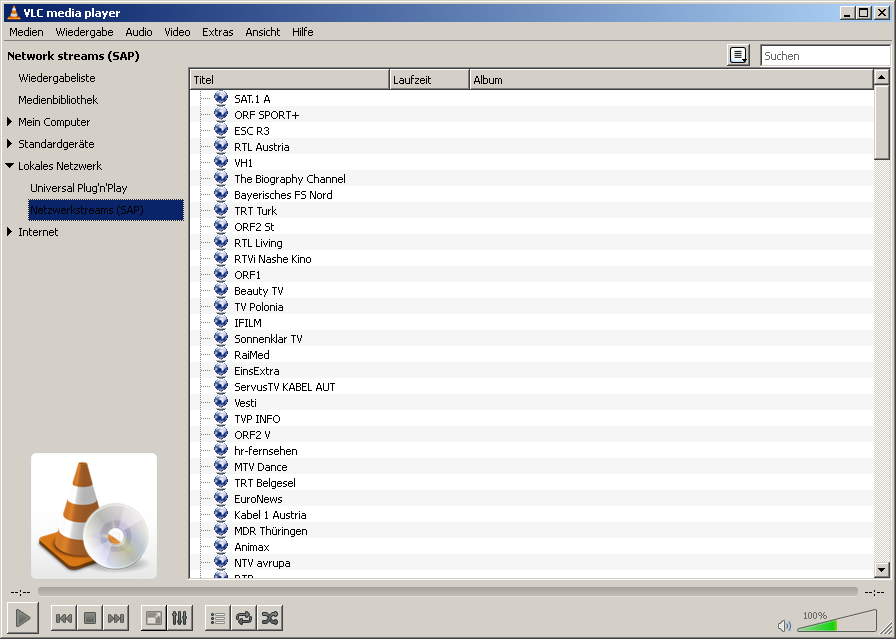 Run the required stream with a double click.
It is possible that some of the shown video and audio streams are temporarily not available. Since these media are not hosted by the University of Vienna, they cannot be influenced by the University.
Configuring firewall
When running VLC with standardised configuration for the first time, Windows will ask you if Windows Firewall should grant access to VLC.

Firewall notification
Select Nicht mehr blocken (Do not block).
If you don't get this notification or if you have deactivated the notifications, you have to add VLC manually to the Windows Firewall exceptions.
To do so, click Start – System – Windows Firewall – Exceptions.