Access with an app on iOS
This user guide helps you to connect to u:cloud with an app for iOS.
Installing and starting the u:cloud app
Install the u:cloud app of the University of Vienna from the App-Store.
To start the app, click on the

u:cloud symbol

on your home screen on your iOS device.
Enter your u:account userID and your u:account password and click on

Login

.
Managing your files and uploads
After logging in, you should see all your u:cloud folders and files. If you haven't uploaded anything so far, then you should be able to only read some text, that suggests that you should upload something.
Click on the 3 white dots on the top right corner of the screen to upload photos or videos from your iOS device to your u:cloud.
Choose the option New folder to create a new folder in your u:cloud.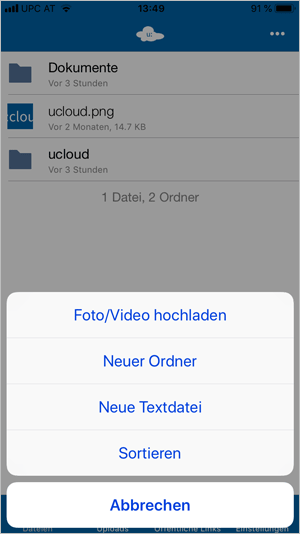 In the section Uploads, you can find what you have uploaded so far.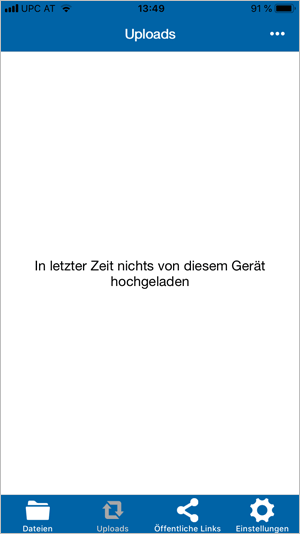 If files or folders have been shared per link with you, then you should see it under Public Links.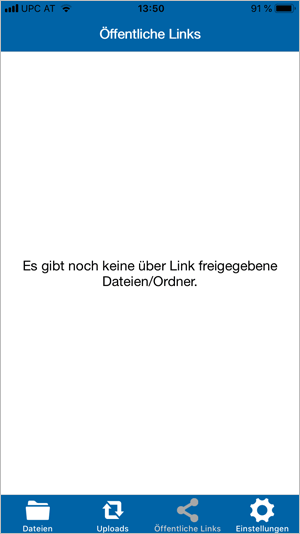 In the section Settings, you can set up a PIN & Touch-ID to have additional secure to your u:cloud. If set up, you need to always enter your PIN or Touch-ID, if you want to access any of your files.