Call history
This user guide explains how to use the call history in the OpenScape Web Client and how to set up a notification if you miss a call.
Please note
A call is displayed as answered if it was forwarded to the voicemail after a certain period of time in no answer mode.
Structure
On the left: Telephone number or name of the person calling (if the contact is defined or if it is an extension of the University of Vienna)
In the middle: Duration of the call and type of call (incoming, outgoing, redirected). You can filter the calls using the arrow icon next to All calls.
On the right: Date and time of the call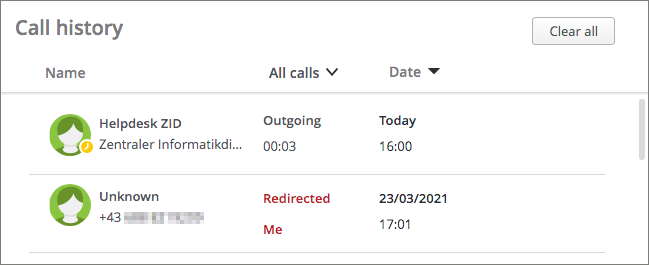 Deleting the call history
You can delete all calls by clicking Clear all in the call history.
Take the following steps if you would like to delete individual calls:
Move the mouse to the desired entry.
Left to the entry, a delete (cross) icon appears. Click this icon to delete the entry.

Notification of a missed call
Click your name in the menu bar.
Click Settings.
Open the Notifications tab.
Activate the E-mail me every time I miss a call option.
Click Save.