Conference call
This user guide explains how to set up and end a conference call with the OpenScape Web Client.
Please note
By default, every user can hold a conference with 3 participants with their personal profile and extension.
For conferences with more than 3 participants, you have to obtain permission once. Use the Servicedesk form for this Telephony – u:phone.
You cannot hold planned conferences.
You can add participants manually to the telephone conference or participants dial in with a PIN. The PIN is sent together with the dial-in number by e-mail.
The telephone conference is ended after all participants have hung up.
Setting up a conference
Add the desired persons to a conference taking one of the following steps:

Via the call history: Move the mouse to the desired entry and click the plus icon.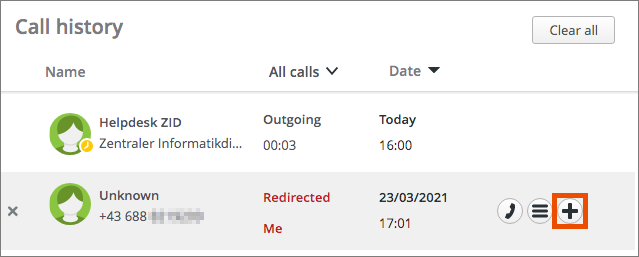 Via the contacts: Move the mouse to the desired contact and click the plus icon.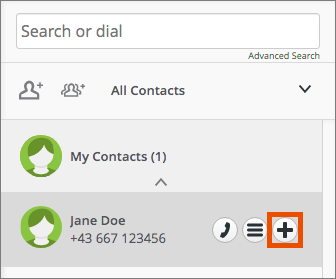 Via the search and dial field: Enter the desired number you want to call in the search and dial field and click the plus icon.


After adding all participants, click the headset icon to start the conference. Now all participants are called. A tape explains further options during the conference and informs you about the number of participants.

Ending a conference
Click the red button to leave the conference.

To end the conference for everyone, you have to remove all remaining participants from the conference.
To do so, click the conference icon in the call history.
Click the Persistent tab.
Move the mouse to the conference and click the delete (cross) icon.
You are asked if you would like to delete the conference. Confirm by clicking Delete.