Setting up a calendar in Thunderbird
This user guide helps you to set up your u:cloud calendar in Thunderbird or to synchronise it with Thunderbird.
Note
If you want to synchronise your u:cloud calendar with Thunderbird, you only need the add-on Lightning. With this you can use the same calendar locally as well as via u:cloud.
In u:cloud open the calendar in the settings in the top right corner.
On the left side next to your calendars you can find the appropriate icons (

Default calendar

is the standard setting).
Select the icon

Link

and copy the appearing link.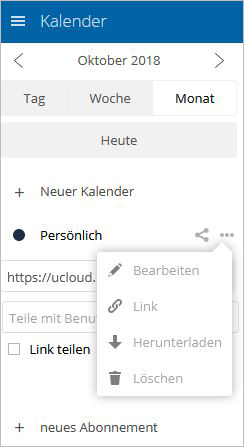 In Thunderbird open the calendar tab.
Create a new calendar with

File

–

New

– Calendar…
Select In Network as the space and confirm with

Next

.
Change the format to CalDAV and paste the previously copied CalDAV link in Adress. Optionally, you can select an offline support.
Confirm with

Next

.
Select a name and a colour.
Finish the setup with the buttons

Next

and

Finish

.