Student Response System (SRS)
The browser-based Student Response System (SRS; currently in test operation) enables teachers to design digital and hybrid courses interactively. The different formats in SRS make it possible to query participants' knowledge, obtain anonymous feedback directly in the course, initiate discussions or evaluate teaching. Students can participate without registering by simply clicking on a link.
Advantages of SRS
The Student Response System at the University of Vienna can be used in digital, hybrid and face-to-face courses alike.
Unlike a classroom response system/clicker system, no additional devices are required.
The system is based on the open source software particify/ARSnova and is operated on servers at the University of Vienna.
Befragungsraum erstellen
If you want to use SRS in a course, register at srs.univie.ac.at. A valid u:account is required for this.
Click Neuen Raum erstellen (create new room).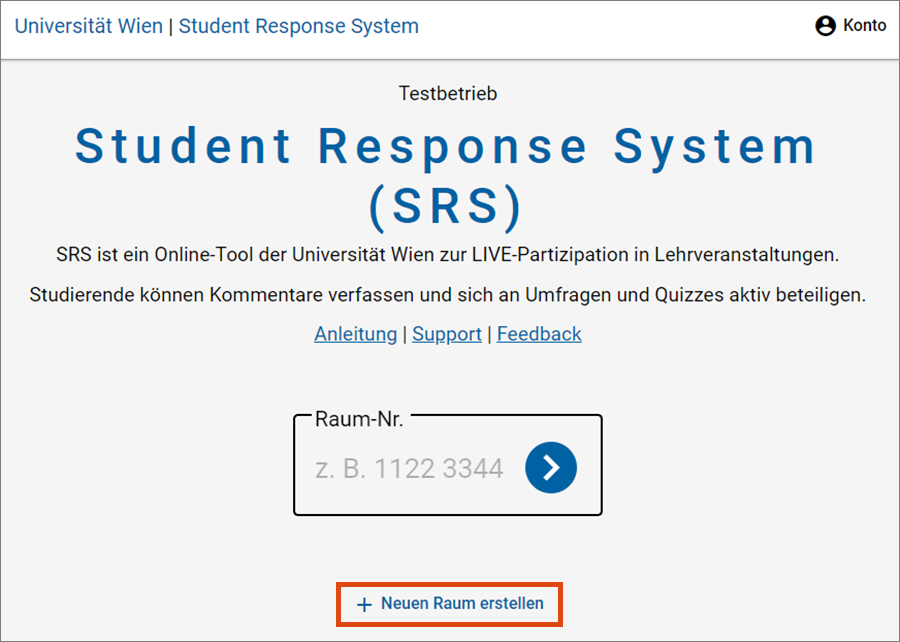 Then define the name of the room by entering it in the field Name des Raums and click on Erstellen (create).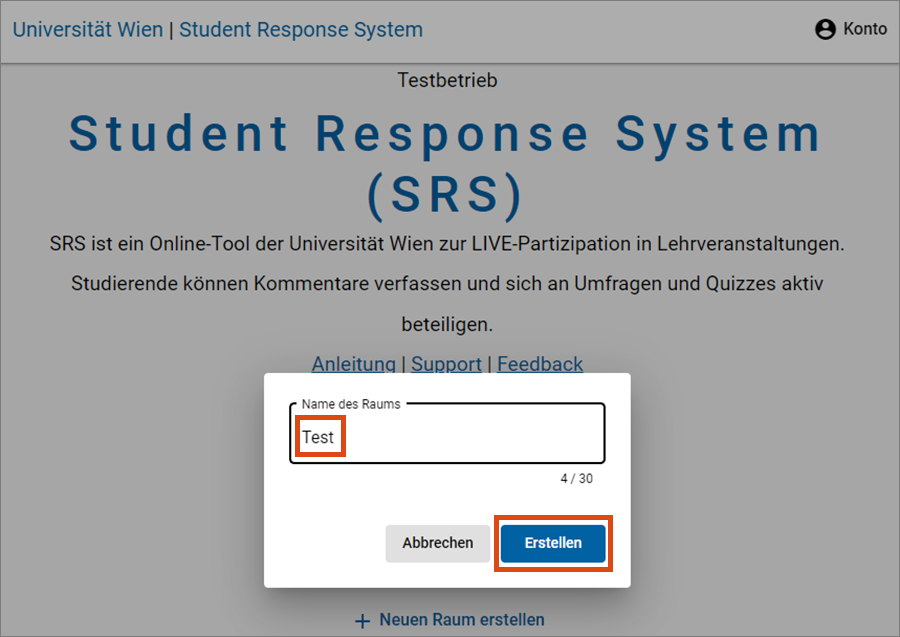 Various features are available to you: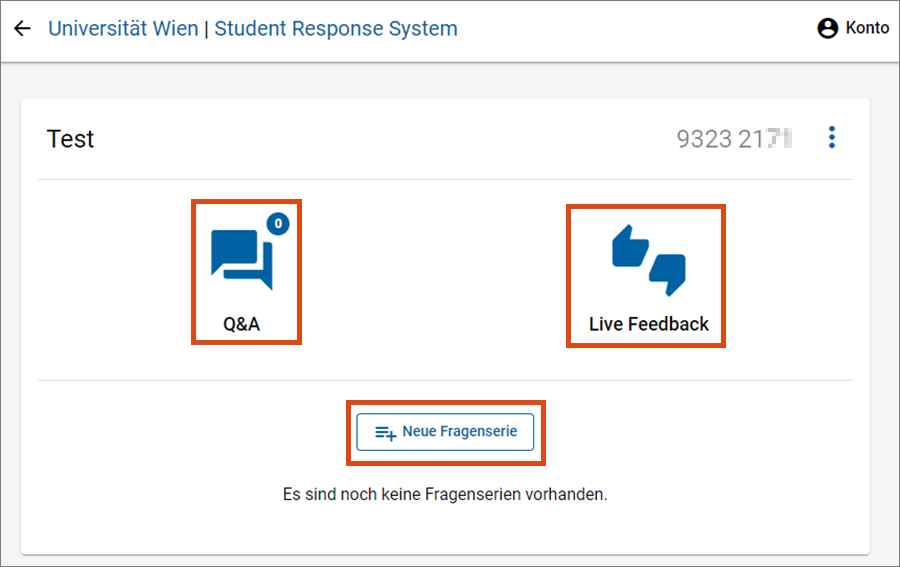 In the section Q&A participants can post questions and feedback and rate postings of others.
The feature Live Feedback makes it possible to create surveys or ask spontaneous questions. The results are shown in real time.
With a click on Neue Fragenserie (new series of questions) you can create the following content:
Live-Umfrage: spontane Umfrage beantworten und Stimmung per Emoji mitteilen
Live-Feedback und Live-Kommentare: anonym zu Wort kommen, mit optionaler Moderation
Ein- oder Mehrfachfragen (Single- oder Multiple-Choice) bzw. Ja-Nein-Fragen: Wissensstand mitteilen
Offene Frage: in einem Freitextfeld antworten
Likert-Frage: Inhalte beurteilen (Stimme zu, Stimme eher zu, Stimme weniger zu …)
Lernkarte: fachliche Inhalte, Sprachen oder Begriffe mit Hilfe von Karten mit Vorder- und Rückseite lernen
Wortwolke: mit Schlagwörtern antworten, die relativen Häufigkeiten werden in Form einer Wortwolke visualisiert
On the top right corner, click on the 3 dots and then on Raum teilen (share room).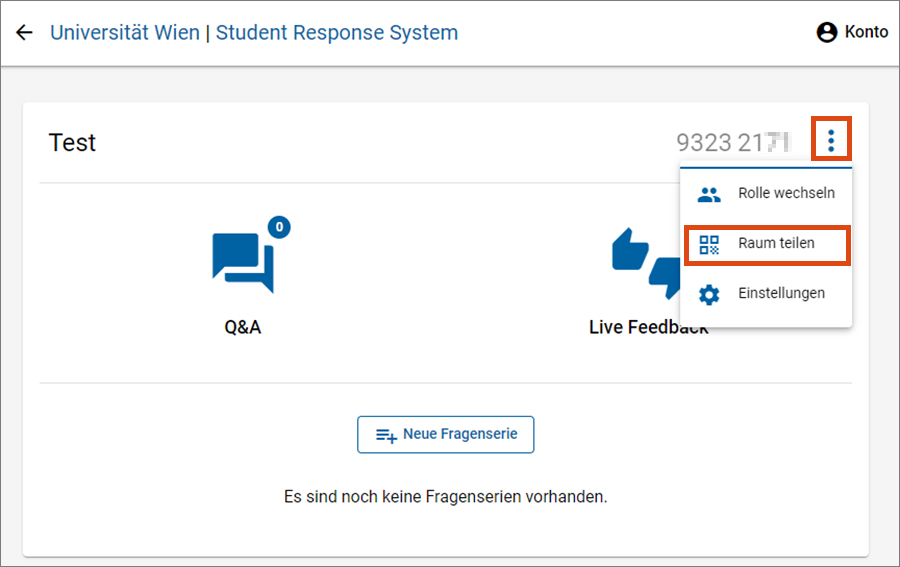 On the next page you will find the room number, the QR code for direct access and the Adresse kopieren (Copy address) button at the top right.
Click on Adresse kopieren (copy address) to save the link to the clipboard. You can embed the link as Arbeitsmaterial Link/URL (work material link/URL) in a Moodle course, send it via e-mail or publish it in other ways.
Include the QR code, the room number and the URL in your presentation slides to give students in the lecture hall easy access to your survey room.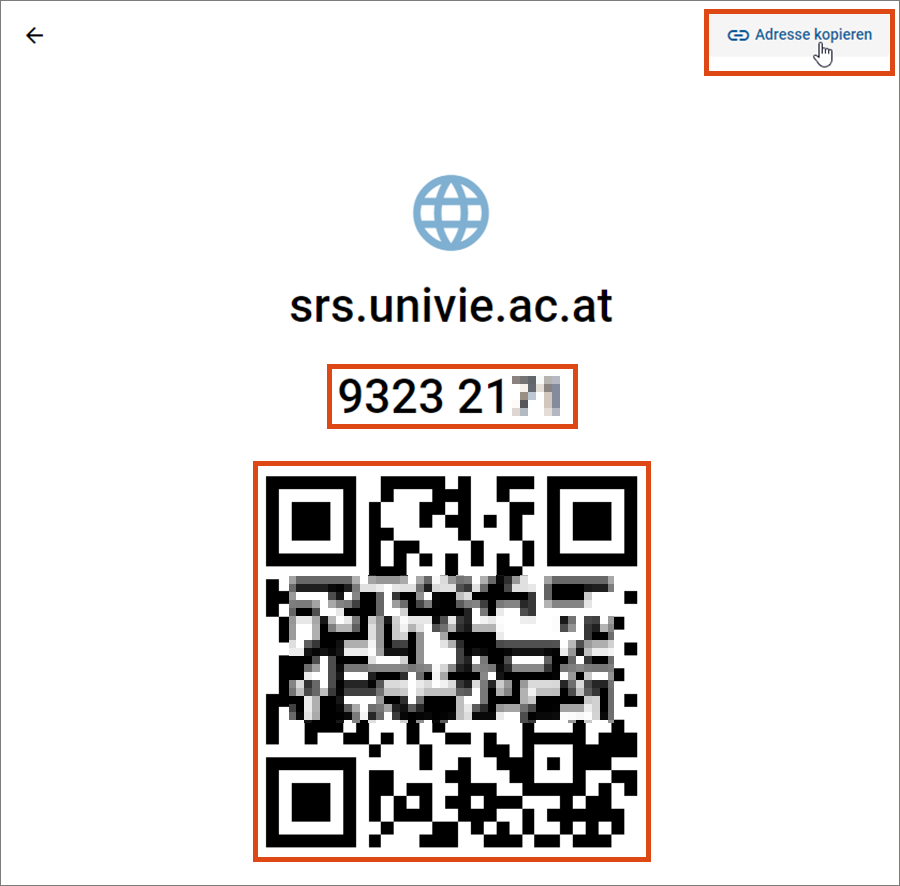 Participating in SRS
Students can enter the survey room either via the link, the QR code or via srs.univie.ac.at and room number and participate in the surveys. Any end device connected to the internet is sufficient for this. Neither a u:account nor special software is required. The location (in the lecture hall or at home) is also irrelevant.