Play
This user guide helps you to play u:stream recordings via the u:stream Player.
Overview
The screenshot shows a test stream in which both the camera and the projector image are recorded.
Which variants are actually offered depends on which selection the teachers make for streaming the course.
You can see the following elements here:
video area
Timeline with chapter indicators
Controls (play, pause, volume etc.)
Title of recording with date
Description, keyboard shortcuts, slide text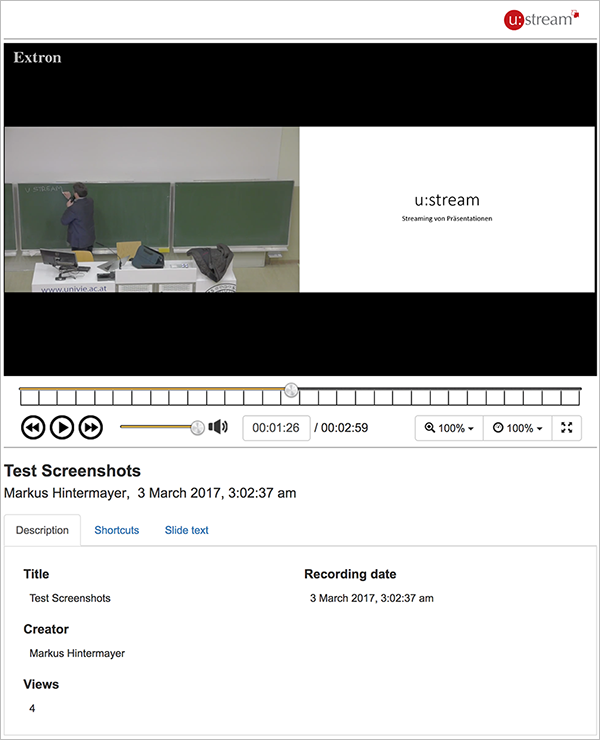 Video section
Depending on which recording variant was selected, you will see the recording of the camera, beamer image or both sources here.
If no image source was selected (i.e. only audio was recorded), this area remains black.
Timeline with chapter indicators
The timeline can be controlled by clicking and dragging the slider.
The chapter indicators are automatically created by the system when strong changes in the beamer image or cuts in the camera image are detected (for example, during a source change). The indicators are used for orientation in the stream and can be addressed directly by clicking on the area in front of the indicator.
Control buttons
Zurück (Back) = Jump to previous chapter
Play/Pause = Start or pause the stream
Vorwärts (Forward) = Jump to next chapter
Time indicator
In the middle area you can enter a time in the format hh:mm:ss. By pressing Enter, the video jumps to the specified timecode.

Zoom
You can zoom into the video by selecting a zoom level from the drop-down menu (100, 150, 200 and 300 % zoom are possible here). Clicking on Reset in the drop-down menu restores the original zoom level (100 %).
Alternatively, you can move the mouse over the video and use the scroll wheel to zoom in or out.
The image section can be moved by dragging it with the mouse (while holding down the left mouse button).

Set speed
Changing the speed is only possible if this option has been activated by the teacher.
The speed can be reduced to 75% or increased up to 300%. The remaining running time of the video at increased/decreased speed is indicated in brackets. For example: 200% (00:45:00)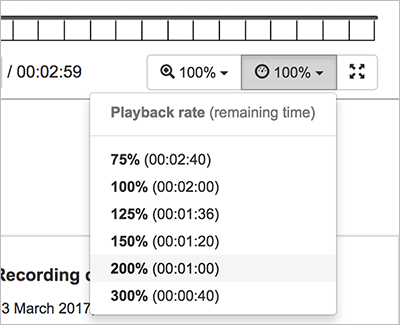 More elements
Description
In the section below the control bar you will find information on recording. These contain:
Title of the recording
Name of the person who made the recording
Date and time the recording was started
Shortcuts
This section contains a list of useful keyboard shortcuts for using the player.

Slide text
This section is currently not available.