Audio and video equipment with button panel
These user guides help you to use the audio and video equipment with push-button panel in centrally managed course rooms.
Smaller centrally managed course rooms or compact equipment use a push button panel. It has options for switching the projector on and off, selecting the sources and regulating the volume of connected devices like PC, laptop or microphone.
Switching the projector on and off
To switch on the projector, press the button

On

in the menu Display

.

Switch on the

presenter's PC and/or

connect your

laptop

with the

HDMI

or

VGA

ports on the desk.
If you want to

interrupt

the

projection

temporarily without switching off the projector, press

Video mute

.
To

switch off

the projector, press the button

Off

in the menu

Display

.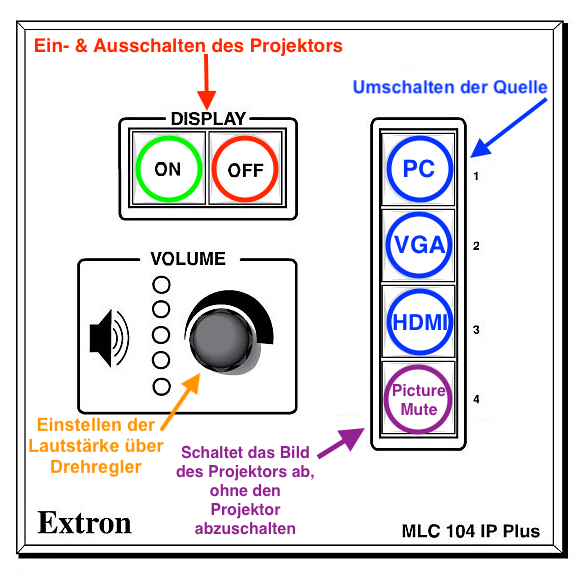 Selecting the source
Every centrally managed lecture room is equipped with a stationary presenter's PC as well as an HDMI and VGA port for laptops. You can switch between the stationary PC and a laptop.
Stationary

presenter's PC

: Button

PC

Selecting a connected

laptop with HDMI

port: Button

HDMI

Selecting a connected

laptop with VGA

port: Button

VGA

Switching off the projection

while the projector stays on: Button

Video mute
Regulating the volume
To regulate the volume of the stationary PC or the laptop, use the knob for Volume.
Support
If you need help working with the equipment on site, ask the responsible local support. You can find the contact details in the short user guides on site or in the list of locations.