Apple Mail
These user guides will help you to set up the e-mail functionalities for Apple Mail to send and receive e-mails with your e-mail address of the University of Vienna.
Requirements
A valid u:account UserID and password
Apple Mail
Installed and operational internet connection
Setting up an IMAP account
If you open Apple Mail for the first time, an assistant will open automatically, supporting you during the setup of a new e-mail account. If you have not set up an account on this Mac yet, you can skip the next step and start with the assistant.
If you have already set up another e-mail account in Apple Mail, select Mail – Add account... in the menu.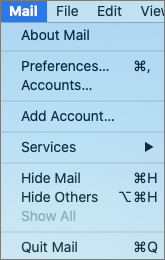 Select Other Mail account... and click Continue.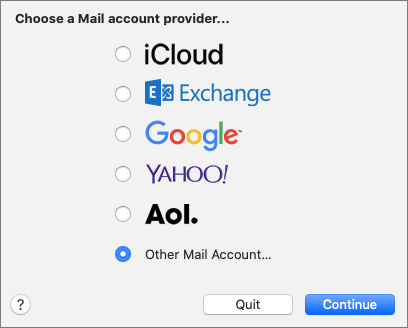 Fill in the 3 fields as follows:
Your name
Your e-mail address of the University of Vienna
Your u:account password
Then click Sign In.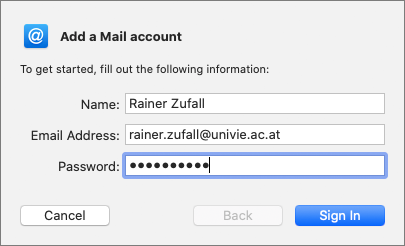 Add the following details:
User name:

Your u:account UserID

Server for incoming e-mails:

imap.univie.ac.at

Server for outgoing e-mails:

mail.univie.ac.at
Click Sign In.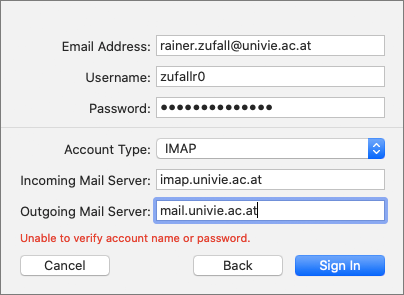 Click Done to finalise the configuration.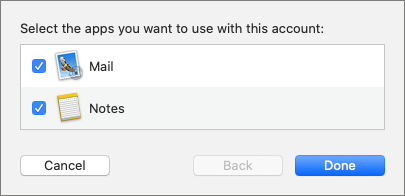 Your e-mail account is now set up and is ready for use.
If during configuration you are asked for ports and encryption, always type in the following:
Encryption: SSL encryption
Port

with IMAP: 993
Port

with SMTP: 465
Change server settings manually
If you cannot send or receive e-mails you can adjust the server settings.
In the menu select e-mail – Preferences ...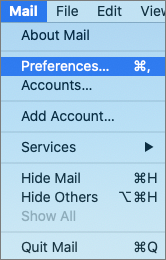 In your e-mail account open Server Settings. Deselect Automatically manage connection settings both at Incoming Mail Server (IMAP) and Outgoing Mail Server (SMTP). Enter the corresponding port numbers 993 (IMAP) and 465 (SMTP). Then click Save.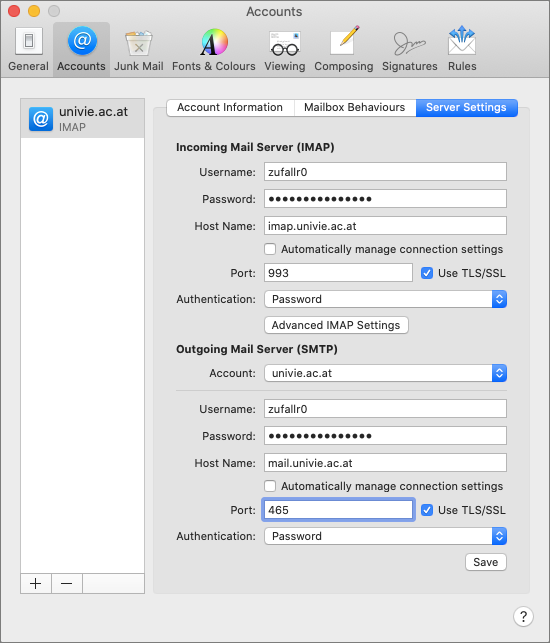 Configure special IMAP folders
Since Apple (this applies to iPhone too) uses its own names for certain IMAP folders, sent e-mails and drafts are not saved in the dedicated folder. If you want to use the standard IMAP folders, the following step is necessary:
In the menu select Mail – Preferences ...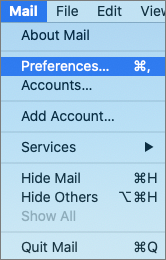 In your e-mail account open Inbox-properties. Select the following folders by clicking on the dedicated drop down menu:
Drafts Mailbox:

Drafts

Sent Mailbox:

Sent

Junk Mailbox:

Junk

Bin Mailbox:

Trash