Digital signature – u:sign
With u:sign, employees of the University of Vienna can legally sign PDF documents (such as agreements, contracts, records) online using the Handy-Signatur (mobile phone signature).
u:sign is based on the product e-Tresor of A-Trust GmbH.
Activating the mobile phone signature
In order to use u:sign, you need an active Handy-Signatur (mobile phone signature). It consists of your phone number and a signature password, which you define yourself when activating the signature. The mobile phone signature is legally equivalent to the handwritten signature.
For activating the mobile phone signature you need:
current

place of residence

in Austria
a

mobile phone

or a

smartphone

with an Austrian or German

SIM card
The mobile phone signature is activated and operated by A-Trust GmbH. Please make use of the information provided on the website of A-Trust to receive your own mobile phone signature. The activation can take up to two weeks depending on the selected method.
Defining signature confirmation
Every digital signature in u:sign has to be confirmed using your mobile phone. You have two options for doing this:
Receive TAN via text message
Install a

mobile phone signature app

and select the type of confirmation yourself
Please use one of the following mobile phone signature apps:
Handy-Signatur App

by A-Trust GmbH, available free of charge in Google Play or in the App Store
App

Digitales Amt

(digital office) by the Federal Ministry for Digital and Economic Affairs, available free of charge in Google Play or in the App Store
You have to activate the app after the download. You can find user guides on the A-Trust website (in German only).
Specify how you want to issue the confirmation in the app settings. Depending on the app and phone model, you can choose between QR Code, TAN, fingerprint or Face ID.
Activating the u:sign account
Employees of the University of Vienna can activate a u:sign account. It provides access to all functions of u:sign, as well as 5 GB of storage space.
Log in to u:sign using your

mobile phone signature

.
Click the button

u:sign aktivieren

(activate u:sign) in the top right corner.
Accept the

u:sign terms of use

and confirm that you are aware of your

rights as a data subject

according to the General Data Protection Regulation (GDPR).
You will be forwarded to the

weblogin

of the University of Vienna. Enter your

u:account login details

to log in as an

employee

of the University of Vienna.
A

pop-up window

will immediately indicate whether the activation was

successful

or not.
If the u:sign account was not activated successfully, you can submit a support request.
After termination of your employment, your u:sign account will be deactivated and then deleted after a period of several months. You can find further information in the u:sign terms of use (in German).
Note
Use u:sign exclusively for signing documents and not as data storage or as a filing system. Documents saved in u:sign are not stored on servers of the ZID (Vienna University Computer Center). In case of data loss, they cannot be recovered by the ZID. Download successfully signed documents and store them using a ZID service designed for data storage (e.g. online storage space, share drive) or locally on your own computer.
Signing documents
Log in to u:sign using your mobile phone signature.
Click

Einfache Unterschrift

(single signature).
Upload the

PDF file

that you want to sign: maximum file size

30 MB

,

portrait format

only, no landscape format possible.
Place the

signature block

in the desired spot. Confirm by clicking the

check mark

.
Enter your

mobile phone signature

and click

Identifizieren

(identify).
Switch to the

mobile phone signature app

on your smartphone and confirm the signature. If you are not using an app, check your text messages and enter the TAN you received.
Switch back to

u:sign

. The signed document will be displayed in the

inbox

.
You can perform further actions using the menu bar.
If necessary, consult the user guide Einfache Unterschrift (single signature, in German).
Note
A PDF file that was signed using the mobile phone signature can no longer be:

modified

;

signed using Adobe Acrobat

.
Use signature folder
With the u:sign signature folder in u:sign you can:
Sign

multiple documents

at the same time

(User guides)
Plan a signature circulation with

multiple people

(User guides)

Bundle signatures

to send them with attachments that don't need a signature

(User guides)
Generally follow these steps:
Log in with your

phone signature

("Handy-Signatur) in u:sign.
Click the

folder

you want the document(s) saved in.
Click the button

Upload documents

to

import

the document(s) in u:sign (portrait format only, no landscape format possible).
Activate the

checkbox(es)

and click the

signature folder icon

to put the document(s) in the

signature folder

.
For every document you can specify who can sign or check it in the

signature settings

.
Select all required documents in the

signature folder

.
Click

Bring selected documents into circulation

. If you don't sign by yourself, the process is now finished.
If you are also signing one or multiple document(s), click

Start signature process

in the next window.
Type in your phone signature ("Handy-Signatur") and click

Identify

.
Confirm the signature with your

phone

. Depending on the selected

settings

you have to follow different steps. Confirm the signature with your

phone

.
Go back to

u:sign

. The

bar

in the signature folder shows the status of the document(s).
Every signer or checker will be notified via e-mail and asked for signature or approval. If they do not get active, they will receive a reminder after 3 business days following a second one after 3 more business days.
Verifying signatures
You can verify who has signed a digitally signed document, whether the content has been modified or whether the signature and the attached certificate are valid:
Go to the website signaturpruefung.gv.at.
Click

Datei auswählen

(select file) and select a

locally saved file

.
Then, click

Prüfen

(verify).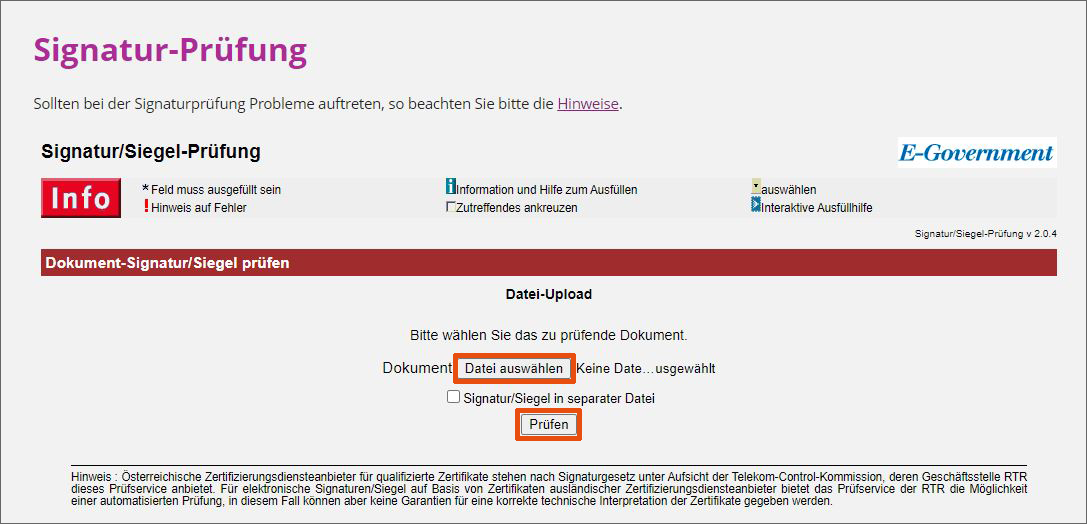 After a short moment, the verification report will be displayed. A signature is valid if all verifications in the columns S (signature value) and Z (certificate) were completed with an OK highlighted in green.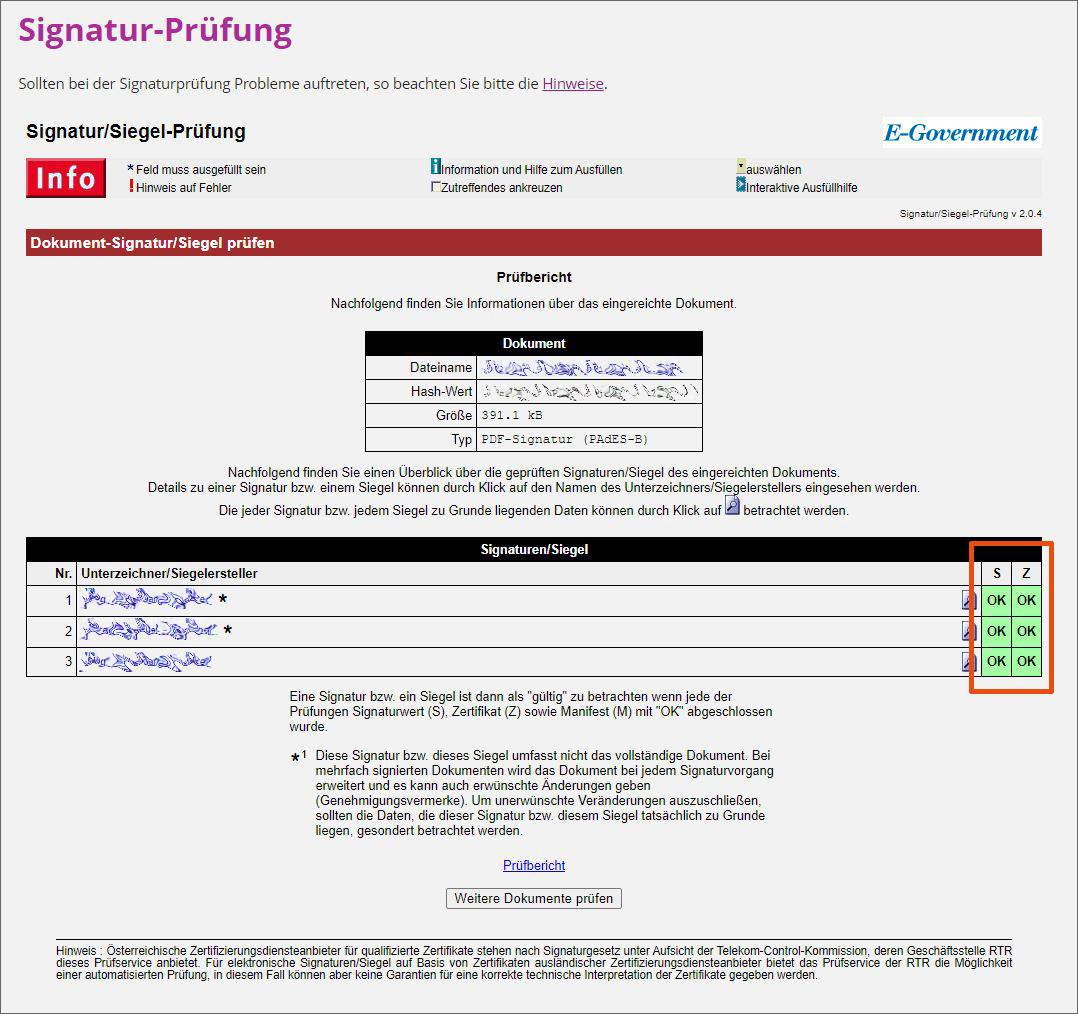 Note
If you only have the document in printed form, you cannot verify the validity of the signature.