Editing pages
This user guide will help you edit pages and their properties and create new pages.
Notes
Before creating your first pages, you should plan the structure of your website and determine what areas (main pages) you would like to offer and what subpages you need.
Use the module Page to create and edit pages and their contents.
Understanding page tree and menu
Every website is divided in pages, and every page, in turn, can have its own subpages. In the backend, you can see this structure in the page tree. In the frontend, the pages form the menu.
Top-level pages are displayed in the horizontal menu. If you access one of these top-level pages, the sub menu will appear on the right-hand side. This consists of the relevant subpages of this page.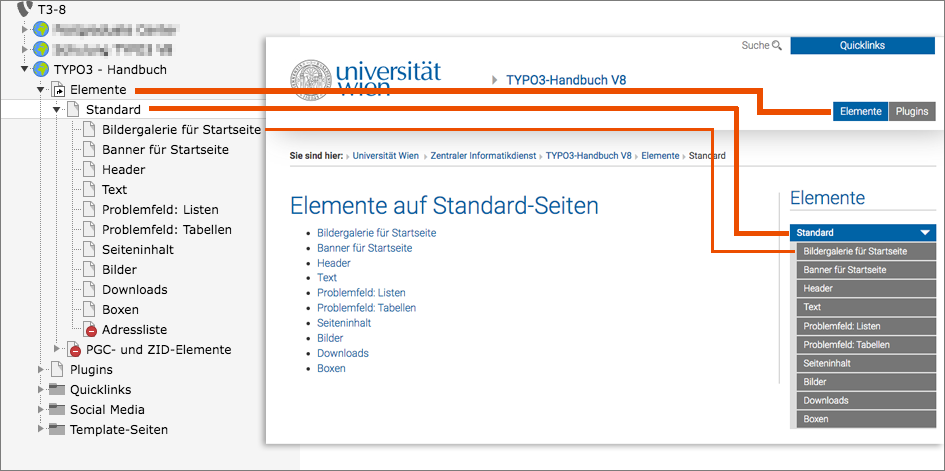 Horizontal menu
Due to space restrictions, the horizontal menu can list no more than 6 items. If this is not enough, you have the opportunity to de-activate the horizontal menu in the page settings. Then, you will also see the top level of the page tree in the vertical menu. However, if you decide on this option, you will lose one level in this menu.

Sub menu
The menu on the right-hand side shows further tab-indented subpages. This structure allows you to display 3 levels. Together with the upper level (horizontal menu), you can therefore use 4 levels at the most to structure your website.
Creating a page
Click on the left button above the page tree. This opens a sub menu with icons with which you can create different elements:
Page
Reference (forward) to another page on your website
Reference (forward) to an external website
Folder
Separator line for visual orientation in the page tree (only visible in the backend)


To create a new page, drag the icon of choice down in the page tree and drop it where you want it.


New pages, references and folders
can be renamed directly after creation. You can always change the page title later by double-clicking on the page title in the page tree.
are initially de-activated (invisible), so that you can edit the page before you enable it. The context menu, see the following section, allows you to enable the page and thus make it visible.
Activating, cutting, copying or deleting page
Via the context menu you can further edit the page, for example activate or deactivate, cut, copy or delete it.
To open the context menu, click on the icon in front of the page name in the page tree or right-click on the page name itself.
The options available to you in the context menu depend on your rights.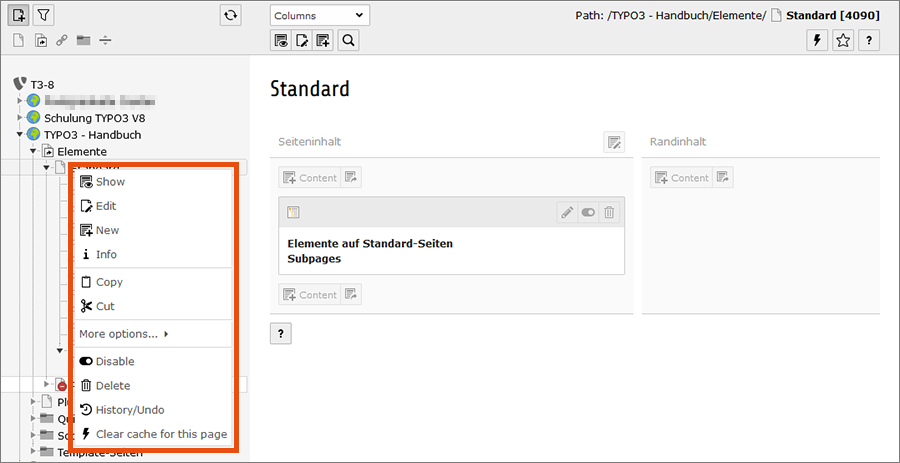 Editing page properties
To edit the page properties, you can open the context menu by right-clicking on the page title in the page tree and selecting Edit. Alternatively, you can click the Edit page properties icon in the area above the working window.
The following options, among others, are available:
Tab General
Change type of the page (Standard, Shortcut, Folder, Menu Separator)
Change page title
Tab Access
Enable or disable page
Hide or display page in the menu (if the page should be accessible via a link, but not appear in the menu, e.g. for news)
Restrict access rights for this page to certain user groups (e.g. for login area)